Brad Facts
Brad Binder
Nickname:
Bradical
How did you get your Nickname?
During Rookies my fellow Rookie – Arthur Sissis gave it to me!
What is your date of birth?
11 August 1995
Where were you born?
In Potchefstroom, South Africa
Where was your first race?
My first race ever was in 2003 at Zwartkops Raceway in Pretoria. It was in the cadet 50cc Karting Class – I was 8 years old.
What are your most memorable races?
Two of my most memorable races were on the 30th April 2011 when I won the Portuguese Round of the Red Bull MotoGP Rookies Cup at Estoril, I won the race by 15.9 seconds, I will never forget it. My first Moto 3 Season in 2012 was really challenging, finally at the end of the Season, things started to come together, the final round was at Valencia on the 11th November 2012 – I had the most incredible race – I was on pace the whole race for a podium, on the final corner – Zulfahmi Khairuddin overtook me and I came 4th. It was such an adrenaline rush – being so close to where I know I can be! It ended the Season for me on a really high note, I was finally able to show everyone what I knew all along I am capable of.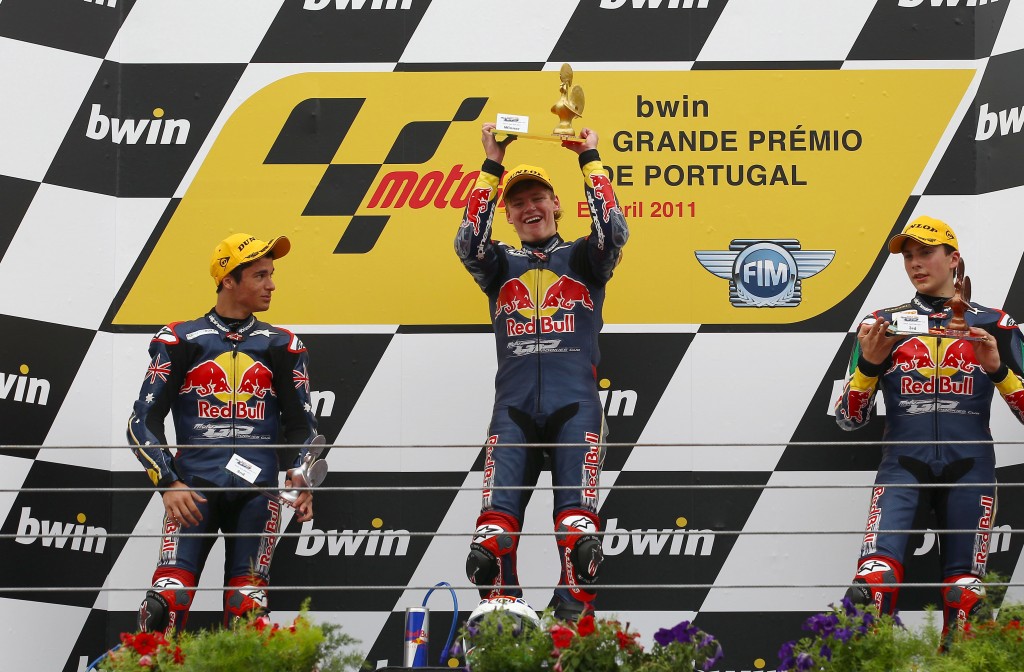 Where do you live?
Right now I'm living in Moraira, Alicante, Spain but my home is in Krugersdorp, South Africa.
What role have your Family had in your Racing?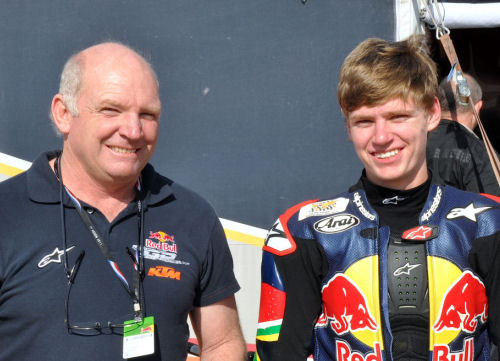 It is because of my Family that I am where I am today, they have made many, many sacrifices for me. My dad – Trevor – has always been at my side and race prepped all of my bikes – he was with me throughout Rookies, the first time I was in the paddock without him was when I started in Moto 3. My dad has taught me to be a sportsman, to compete with integrity and always to look at myself first before blaming the bike or anyone else for not achieving results in races.

My mom is the glue that holds us all together. She is super organized and makes sure that everything is done for all of us. She made a huge sacrifice last year when she moved to Spain with me. She left my brother and my dad so it was difficult for everyone, but she never ever complained. I have 1 brother, Darryn is almost 3 years younger than me, we call him "Daz". I have competed against him many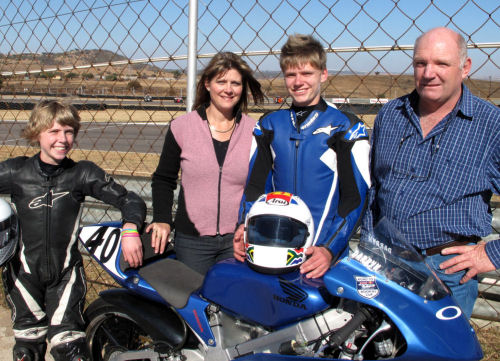 times in South Africa, mostly I win but once or twice he has beaten me – he doesn't let me forget those wins!
When we were both racing in South Africa in the Regional Championship he pulled a move on me on track – when we came into the pits I asked him what it was all about, he answered, "in here, we are brothers, out there – you are the enemy!". I am really excited that he will be racing in Red Bull Moto GP Rookies this year – I will get to spend a lot more time with him than last year. We are a really close family so the time we spend apart is tough, but it does make the time we spend together that much better.
What is your favourite movie?
My favourite movie is Never Back Down
What are your favourite foods?
My favourite foods are Biltong and KFC!
What is your favourite colour?
My favourite colour is Blue
What is your favourite country?
South Africa is my favourite country
Where is your favourite holiday destination?
My favourite place to go on holiday is Malaysia
What is your favourite car?
A VW Scirocco is my favourite car
What is your favourite bike?
My favourite bike is a Suzuki GSXR 600, I have one at home – I just love it
What is your favourite sport?
Motorcycle Racing is my favourite sport
What do you do to stay fit?
I do a lot of cardio – cycling, running and swimming. Cycling is my favourite, when I am at home I
like to participate in the 94.7 Cycle Challenge
What other sports do you like other than motorcycle racing?
I love to surf, if I didn't ride bikes I would be a surfer. I love the water – I also like to wakeboard and
ski, I am keen to participate in all forms of water sports
Do you have pets at home?
I have 2 parrots and 2 dogs. My favourite parrot is Oscar and he is a Macaw . He is really clever and
imitates us. He calls the dog at night and whistles for him to come in, when its bedtime he calls me.
He likes to ride on my bicycle, though he did fall off the handle bars once so we are more careful
now!
Who are your heroes?
My heroes are Valentine Rossi and Noriyuki Haga. I chose my number – 41 because of Haga. I will
always remember and be inspired by Super Sic - Marco Simoncelli – he was truly a MotoGP great.
What do hope to achieve in the 2013 Moto 3 Season?
I plan to achieve a Top 10 place in the Championship this year. I honestly believe that a Podium
position is within my grasp and I am going to work really, really hard to achieve it.
What is your dream?
My dream is to one day become a MotoGP World Champion