Brad Binder | Friday / Saturday Sepang 2013
Friday
For Friday FP1 and FP2 the mixture of sweltering hot mornings and monsoon rain afternoons didn't stop Brad Binder from lapping with the front runners and showing what he and the Mahindra MGP30 can do now they have been together for a few races.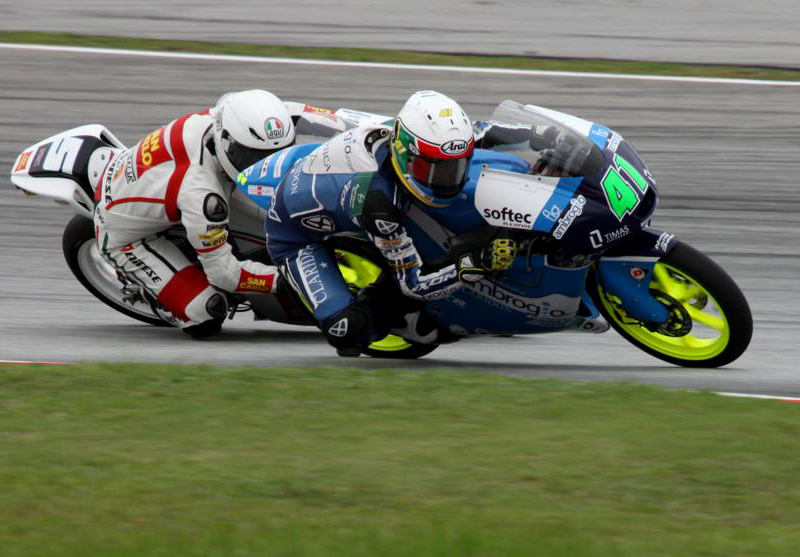 FP1 was typical Sepang, scorching hot with 90%+ humidity, making even a run of five laps seem like a whole race. Luckily Brad's South African blood was used to heat so he was able to put in longer runs than others. Brad set an impressive lap time early in the session that saw him remain fourth till the closing minutes. His 2'15.741 was good enough for 8th in the end and he set the fastest time through Sector 1.The midday break saw dark clouds come over the track and there was a lot of discussion about whether it would rain and for how long, luckily Brad isn't a weatherman. It poured down for a good long while but when the rain did stop the track began to dry very quickly. The majority of the session was spent on wets, but in the closing minutes the track came dry enough for slicks. Unfortunately Brad's team didn't have time to change the wet weather setting on his bike so he was unable to push fully. He finished in 15th.
"Today went pretty well overall. I was really happy with how we were going in FP1 and I think we can run at that pace all weekend. The afternoon session was okay in the wet, the bike handles well and we just got caught out in the last few minutes. Overall I'm pretty happy with today, especially my sector times from FP1."
Saturday
Sepang was surprisingly overcast throughout all of Saturday, with small showers making the track treacherous throughout the day. By Sepang standards, Free Practice 3 was quite cold. This didn't stop Brad dipping into the 2'14s with a 2'14.449 and ending the session 9th fastest and second Mahindra. Brad and his team have made huge steps in understanding the Mahindra bike in such a short period of time.
Qualifying for the Moto3 bikes came after a small shower. This meant that there were damp patches littering the track. Not wanting to risk a crash, Brad spent the first ten minutes in his box waiting for easier conditions. Once Brad did venture onto track he was quickly on the pace, running in the top five for most of the session. Brad was on a very fast lap in the closing stages of Qualifying when he hit a damp patch that caused him to crash, ending his session. As a result Brad will start 23rd on the grid.
"Yeah, today started off good, but then it didn't go so well. The crash was a fast one but luckily I'm okay.  The crash was a combination of me pushing too hard and hitting a damp patch. Luckily there wasn't too much damage. I feel good for the race tomorrow, wet or dry. We have good pace and I know I can make up a lot of places, especially down the straight as we've been top five or so in the speed trap all weekend."