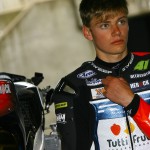 Brad Binder finished the Hertz British Grand Prix in 17th position, just outstide of the points, constantly running two seconds faster than his fastest lap in practice (2'19.944 ).
Brad experienced a challenging weekend, but together with Team RW Racing GP, a solution was found this morning after Warm Up that finally enabled Brad to find that pace that he had been lacking. Continue reading →

The second day of the Hertz British Grand Prix was even worse then the first one for unlucky Brad Binder, who wasn't able to get a good grid position for tomorrow's race.
This morning's FP3 wasn't really useful for the young South African, who accidentally touched the wrong button on the bike and consequently switched it off. This made him lose a lot of time. Continue reading →
The first day of the British Grand Prix was certainly a cold and wet one : it rained during FP1, while later on a bit of sun came out and dried up the asphalt for FP2, but it was still cold and very windy.
The first free practice session was positive for Brad, he ended 17th, but was in the top 10 for most of the total 40 minutes. Continue reading →